Implant Surgeon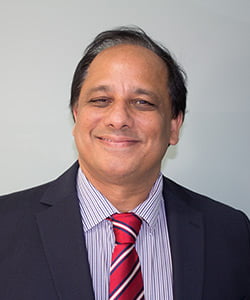 Dr Nadeem Rathore
Dentist/Implantologist
Statutory Exam 2006 (LOND), F.F.D.R.C.S (IRE) 2001, F.D.S.R.C.S (LOND) 2001, BSc. (Hons) 1993, BDS Punjab 1991,

GDC Number: 103967
Hi, I am DR Nadeem Ahmed Rathore. I was born in Kashmir and graduated as a dentist in 1991 from de'Montmorency University of dentistry, (Affiliated with King Edward Medical University Lahore Pakistan). I also completed my BSC (Hons) from the Punjab University Lahore, Pakistan in the year 1993.
I worked as a General dental practitioner in Kashmir from 1992 to 1996. I came to United Kingdom in 1996 and started working in maxillo-facial Units of several hospitals (from 1996 to 2002) to be trained as an oral surgeon. I worked at Mount Vernon Hospital, Watford General Hospital, Arrowe Park Hospital (Liverpool), Whipps Cross Hospital Leytonstone, Royal London Hospital, Queen Mary's hospital, Northampton & Kettering General Hospital.
I completed my Osseo-Integrated Implant course (London) in the year 2000 I was awarded fellowship of F.I.C.O.I (Hon) from Las Vegas Nevada (U.S.A).
I became a fellow of Royal College of Surgeons of England (London) in 2001. I was also awarded another fellowship from the Faculty of dental Surgery from Royal College of Surgeons, (Dublin) Ireland in 2001.
I passed my (IQE) International Qualifying Exam from Eastman dental hospital in the year 2006.
I have been working at Dental Works in Milton Keynes for over 10 years. Our practise had been awarded with the "Best Practice in UK" private dentistry award in 2015.
In addition to my work in implant dentistry and Oral surgery I also have a special interest in cosmetic dentistry. I am also a member of British Academy of cosmetic dentistry.
I became principal in Toddington Dental Practise in 2015. Since I have taken over the practise, I upgraded all the equipment to facilitate my patients and tried my level best to provide them the excellent care.
Dental treatment may be worrying for some people, I always make sure that the visit to our surgery is as relaxing and settling as possible. I ensure that any treatment carried out here is pain-free and comfortable.
During my 24 years career of dentistry I have attended over hundreds of Hands-on courses and seminars on implant dentistry, oral surgery and Aesthetic dentistry.
I am a hard worker by nature. Throughout my medical career, I have involved myself in the tuition of dental, medical and nursing staff.
I live in Milton Keynes with my wife, Farhana Rathore and four children, Maryyam, Azzaan, Fatima and Ahmed. I regularly play badminton with my daughter Maryyam, and football with my sons. I love travelling with my family and friends. I like to get involved with community work and charity work is also close to my heart.
I am very passionate about my profession and I enjoy looking after my patients. I welcome you to Toddington Dental Practice.